Revive Church teaches the Bible. The whole thing. Even the challenging parts that make you ask, "Did Jesus really say that?" The Word of God is valuable for every culture and every generation!
We desire for our music to be modern and engaging. It's not about the lights or vocalists, it's about all of us, with one heart worshipping the King of kings.
Teaching kids is VERY important to us! That's why we don't baby-sit kids, we teach them to pray and to love God's Word! Parents are ALWAYS welcome to check in on their kids.
What We Believe
We believe the Bible is God's Word, from His mouth to man, through His Spirit without error. It is God's love letter to us and is used to encourage and guide our lives.
We believe there is one true God and that He exists in three persons: the divine example of true community. These three are equal, but carry out different roles in the work of creation, providing and redeeming.
---
We believe God is an infinite personal spirit, perfect in all things. He so desires to connect with us in a personal way that he sent his Son to reconcile the relationship between God and man.
---
We believe Jesus is God's only son. He was conceived by the Holy Spirit and born to a virgin. He lived perfectly, without any sins. We believe He died in our place, to pay for our sins, that He came back to life in bodily form and that He ascended into heaven.
---
We believe the Holy Spirit comes from the Father and Son to make us aware of our sin, to convict, guide, comfort and lead us both corporately and personally. He lives in all of us who believe in Jesus.
---
We believe that "the church" is one universal body of believers encompassing all those who believe in Jesus. We are to gather regularly with other members of the church. This can happen in concerts, chat rooms, life groups and other places where God's kids gather together.
---
Jesus modeled 2 things: baptism, which is symbolic of His death and resurrection, and communion, which symbolizes His blood and body crucified for us.
---
We believe every person can have a direct, personal relationship with God. No human mediator is required for God to hear our prayers, forgive our sins or direct our lives.
---
We believe all people are sinners by nature and choice and, because of that, are spiritually far from God. We believe those who repent of their sins, connect with God and make Jesus the leader in their lives are made new by the Holy Spirit. This transformation is made evident by the change in our lives.
---
We believe Christ will personally and visibly return to Earth and establish His kingdom. We believe in a literal heaven and a literal hell, that all who have died will be resurrected in bodily form, and that there will be a judgement. We believe, according to the Bible, that the righteous will spend eternity with God and the wicked will spend eternity separated from God.
Our Prayer
Lord lead us to go and make disciples of all nations, starting in our homes, our neighborhoods and our city. Empower me to know Truth so I can teach Truth. Help me extend the grace you extned to me. We move only  with Your power and dirctions. IN JESUS NAME- AMEN!
Our Values
These are the values we want all of us at Revive to live out.
Feed Ourselves Spiritually.
Live in Community.
Give Generously.
Serve the Kingdom.
Share Openly.
Imagine a community that lived out these 5 values!
The Tour
If you're new to Revive, we have a quarterly (ish) get together at our pastor's house for the history and future of Revive.  It is also an opportunity to ask all those questions about how we do Church. Kids are welcome and food is provided. Reach out to info@ReviveChurchBoise.com to see when the next one is scheduled.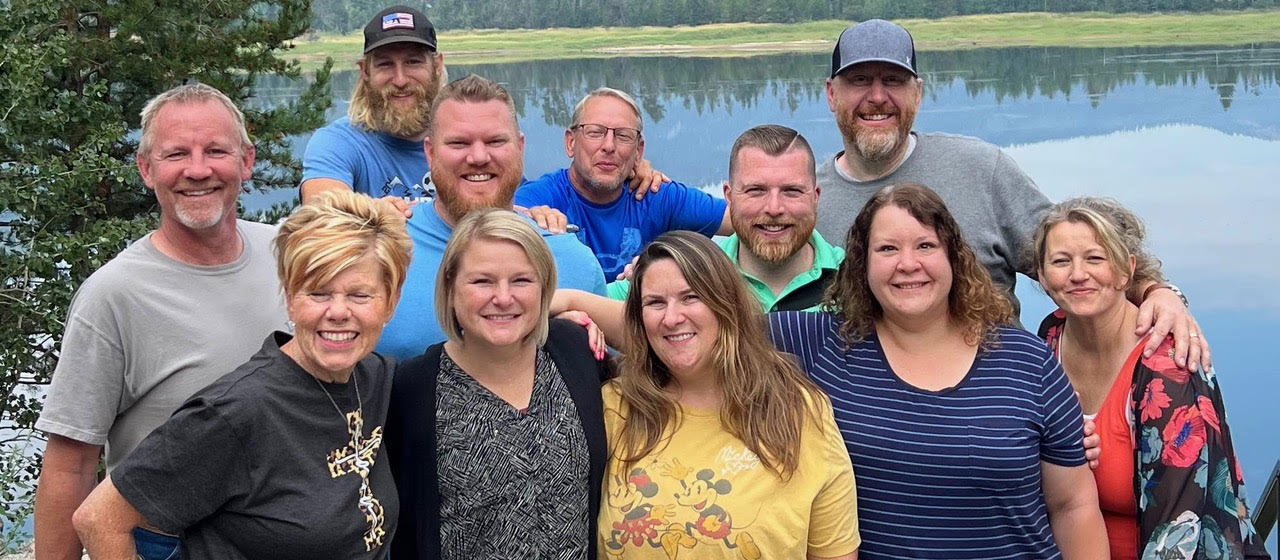 Revive is blessed to have an amazing staff. This picture was from our 2022 staff encounter. Although we all have our 'lanes" of ministry, it's not uncommon for all of us to pitch in and help with each other's ministries. If you are interested in a specific ministry, reach out to us at info@ReviveChurchBoise.com and we will get you the right person!"